The real estate market is expected to do very well this year as mortgage rates remain at historic lows. One challenge to the housing industry is the lack of homes available for sale. Last week, move.com released a report showing that 2020 is beginning with the lowest available housing inventory in two years. The report explains:
"Last month saw the largest year-over-year decline of housing inventory in almost three years with a dramatic 12 percent decline, pushing the number of homes for sale in the U.S. to the lowest level since January 2018."
The report also revealed that the decline in inventory stretches across all price points, as shown in the following graph: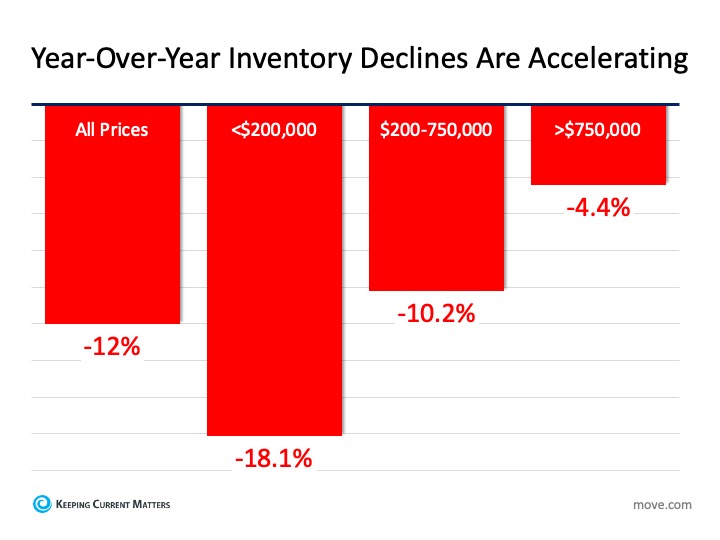 George Ratiu, Senior Economist at realtor.com, explains how this drop in available homes for sale comes at a time when more buyers are expected to enter the market:
"The market is struggling with a large housing undersupply just as 4.8 million millennials are reaching 30-years of age in 2020, a prime age for many to purchase their first home. The significant inventory drop…is a harbinger of the continuing imbalance expected to plague this year's markets, as the number of homes for sale are poised to reach historically low levels."
What does this mean for Orange County?
Low Supply: The active inventory is extremely low to start the year, down 34% compared to the start to 2019.
Life is a time crunch. Inevitably, important errands are left to the last minute. It's happened to everybody at one time or another. With Valentine's Day on the horizon, it will happen again. Many will head to the grocery store on February 13th and make a bee line to the greeting card aisle, only to find twenty other procrastinators hurriedly looking for the best card. Squeezing between the crowd reveals a half empty shelf with the best cards undoubtedly already taken. The whole ordeal is frustrating.
Similarly, buyers this year are just as frustrated. The Orange County housing shelves are half empty. It is tough being a buyer looking for a home in today's market. The year started with 3,692 homes, the third lowest start in decades behind 2013 and 2018. There were 5,565 homes to start 2019, 51% more than January 1, 2020. There were a lot more choices a year ago, but not today.
The trend of the supply problem dates to the beginning of the Great Recession, 2008. Ever since then, fewer and fewer homeowners have placed FOR SALE signs in their front yard. This trend is hardly a blip on the radar screen; instead, it has continued for twelve consecutive years. Last year may have seemed like a better year with more homes to choose from, but that was caused by diminished demand due to higher interest rates. Homes that typically would have sold in prior years lingered on the market until interest rates dropped to historical lows, dropping from 4.5% at the start of 2018 to below 3 by the end of May.
The number of homes placed on the market in 2019 was down by 4% compared to 2018, a difference of 139 fewer homes
every single month. Yet, the 139 fewer home difference is nothing compared to the first decade of the 2000's. In 2004, there were 2,099 more homes placed on the market every single month. That's an additional 25,000 homes for the year, plenty for buyers to choose from.
Additionally, in December 2019, there were 12% fewer homes listed for sale, 1,339 new FOR SALE signs compared to 1,534 in December 2018. In fact, it was the lowest number of homes placed on the market since the start of accurate record keeping back in 1999. Fewer homes for the year and a further drop to end 2019 set up the low inventory start to 2020.
Price is determined by supply and demand. For kicks and grins, imagine that demand remained the same. When the same number of buyers are interested in purchasing a home, yet the supply of homes drops considerably, it essentially becomes a bidding war where the highest bidder wins. As a result, prices rise. Essentially, that is what has happened during this housing run that dates to 2012. In 2012, demand spiked; however, there were not enough homes on the market to satiate the voracious appetite for buyers to buy. Home values have been on the rise ever since, slowing considerably last year because of muted demand. With the return of historically low mortgage rates and an extremely anemic supply of homes, the bidding wars are back and so is the return of appreciation.
Buyers who feel as if they are running out of luck can attest to the need for more choices. It's "slim pickens," especially in the lower ranges. And, this is occurring during the Holiday/Winter Market. The market will really heat up in just a couple of weeks, right after the Super Bowl.
Along with low inventory, we set a record-high median in December
Southern California home price hit a record-high $550,000 in December as buying jumped 22% in a year, CoreLogic/DQ News data indicates.
Cheaper mortgage rates, a shrinking supply of existing homes to choose from, plus a resilient economy got house hunters in a buying mood as 2019 ended. Here are 7 local housing trends within the report.
1. Regional sales: 19,337 residences — new and existing — sold in December in six SoCal counties. That's up 22.1% in a year, the biggest jump in 37 months. But the region's latest sales count still is 17% off the December average of 23,317 since 1988.
2. Price: SoCal's median was $550,000 — up 7.2% over 12 months, the biggest jump in 22 months. That breaks the record of $549,000 set in July 2019.
3. Single-family houses: 12,873 sold in the six counties, up 20.1% in a year. The median selling price was $570,000 — an 8.6% increase over 12 months.
4. Condos: 4,133 sales across the region, up 27.2% over 12 months. Median? $470,000 — a 6.8% increase in a year.
5. Newly built: Local builders sold 2,331 new homes, up 25.3% in a year. Median? $578,750 — an 0.8% increase over 12 months.
6. Builder share: 12.1% of SoCal sales vs. 11.7% a year earlier. Between 1998 and 2018, new homes accounted for 13.4% of all homes purchased.
7. County by county: Sales rose in six SoCal counties in the past 12 months while prices rose in five.
The question is: What does this mean to you?
If You're a Buyer…
Be patient during your home search. It may take time to find a home you love. Once you do, however, be ready to move forward quickly. Get pre-approved for a mortgage, be ready to make a competitive offer from the start, and understand that a shortage in inventory could lead to the resurgence of bidding wars. Calculate just how far you're willing to go to secure a home, if you truly love it. Align yourself with an experienced agent, like Chiselle, to develop the best strategy.
If You're a Seller…
Realize that, in some ways, you're in the driver's seat. When there is a shortage of an item at the same time there is a strong demand for that item, the seller of that item is in a good position to negotiate. Whether it is price, moving date, possible repairs, or anything else, you'll be able to demand more from a potential purchaser at a time like this – especially if you have multiple interested buyers. Don't be unreasonable, but understand you probably have the upper hand. It's can be a tricky dance. Make sure you have an expert like Chiselle in your corner to sell quickly and for the highest price.
Bottom Line
The housing market will remain strong throughout 2020. Understand what that means to you, whether you're buying, selling, or doing both. 
Schedule a Private Consult with Chiselle
Data provided by OC Housing Report and Keeping Current Matters.